Technical Fellowships
The Prevent Cancer Foundation® funds a series of Technical Fellowships focusing on rapid transfer of knowledge and technology in cancer prevention and early detection.  This program was initiated through a partnership with the Union for International Cancer Control (UICC), an international non-profit organization.
UICC Technical Fellowships allow health care professionals from around the world to learn new techniques and skills in the early detection and treatment of cancer at top research and cancer institutes. The majority of awarded fellows come from low- and middle-income countries.
2017 Fellowships
Prof. Fabrizio d'Adda di Fagagna
IFOM, Fondazione Istituto
FIRC di Oncologia Molecolare
Milan, Italy
Area of study: Diet in the prevention of telomere dysfunctions
Host institution:  University of Southern California (USC), U.S. 
Dr. Sonali Susmita Nayak
Tata Memorial Centre
Visakhapatnam, India
Area of study: Cervical cancer screening
Host Institution: Houston Methodist Hospital, Texas, U.S. 
Dr. Mario González
Universidad Nacional de Colombia
Colombia
Area of study: Ovarian cancer and NSAIDs
Host Institution: Queen Mary, University of London, U.K. 
Dr. Jennifer Walker
University of Melbourne
Melbourne, Australia
Area of study: Cancer risk assessment tools in primary care
Host Institution: Washington University in St Louis, U.S. 
Olga Aleksandrovna Vlasova
N.N. Blokhin Russian Cancer Research Center
Russia
Area of study: Influence of non-mutagenic DNA-binding small molecules on chromatin structure and FACT function
Host institution: Roswell Park Cancer Institute, U.S. 
 
Past Technical Fellowships
Dr. Rajan Duggal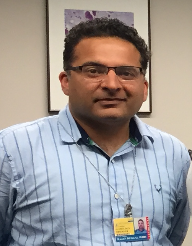 Medanta-The Medicity Hospital
Gurgaon, Haryana, India
Host institution: Johns Hopkins Hospital, U.S.
Dr. Duggal performed his fellowship performed his fellowship from June 1-June 30, 2016. After concluding the study, Dr. Duggal realized there are two prostate-specific immunohistochemical markers used in determining prostatic origin of the tumor that are not being used in his home institute.

Drs. Foca, Fortuna, Pretual and Corotas
State University of Medicine and Pharmacy
Republic of Moldova
In the Republic of Moldova, cervical cancer ranks as the most frequent cancer among women ages 15-44 and the 3rd most frequent among all women. These four fellowships support the establishment of a gynecological pathology center of expertise at the State University of Medicine and Pharmacy.
Read more about Drs. Foca, Fortuna, Pretual and Corotas' Fellowships.

Dr. Ranajit Kumar Mandal
Chittaranjan National Cancer Institute
Kolkata, India
Host institution: International Agency for Research on Cancer (IARC), France
Dr. Mandal's Fellowship was from mid-September to mid-October 2016.
The clinical fellowship was entitled: "Technology transfer in statistical analysis and data inference by analyzing a study entitled 'correlation between the expression of p16 & Ki67 and colposcopic and histo diagnosis and HPV status in cervix' and preparation of an atlas on cervical IHC."