2016 Awardees
2016 Research Awardees
Grantee: Reginald Y. Gohh, M.D.
Applicant Title: Medical Director, Division of Organ Transplantation
Institution: Rhode Island Hospital, Providence, RI
Project Title: Nicotinamide for AK prevention in kidney transplant recipients
Findings from this study will further clarify the therapeutic potential of nicotinamide as a safe, inexpensive chemo-preventive in kidney transplant recipients at high risk for non-melanoma skin cancer.
General Audience Summary:
"Non-melanoma" skin cancers and pre-cancerous growths (actinic keratosis or "AKs") develop at high rates in kidney transplant patients. When they do develop in these patients, they tend to be aggressive and require frequent medical procedures, often surgery, for their removal. If not removed, the pre-cancers can develop into skin cancers, and the skin cancers may spread and even cause death. It would be an important medical advance to reduce the occurrence and complications of these skin cancers and pre-cancers in kidney transplant patients with a safe, effective, well-tolerated treatment taken by mouth. Dr. Bostom and his team are testing oral nicotinamide (NAM)—a B-vitamin compound—to see if NAM treatment reduces the numbers of pre-cancerous growths and "non-melanoma" skin cancers in these patients.
Grantee: Katherine Cook, Ph.D.
Named Award: The Living in Pink/Prevent Cancer Partnership Award
Institution: Wake Forest University Health Sciences, Winston Salem, NC
Project Title: Prevention of obesity-induced breast cancer and tamoxifen drug resistance
This study hopes to identify the impact of dietary fatty acid composition on obesity-induced breast cancer development. This may lead to women making more-informed food choices as a way to prevent breast cancer.
General Audience Summary:
Breast cancer is the most frequently diagnosed cancer in women: about 232,000 new cases are diagnosed each year. Obesity also is an epidemic in the U.S., as over 60% of women are overweight or obese. Several studies have shown a strong link between obesity and a greater risk of developing breast cancer. It is estimated that 3 out of 10 breast cancers may have been prevented if the women were not overweight.
The most common type of breast cancer expresses the estrogen receptor, and endocrine-targeted therapies are often used to treat them. Results from the breast international group (BIG) I-98 study indicate that obese women treated with tamoxifen had a poorer overall survival when compared to healthy weight women, suggesting a causal link between obesity and resistance to endocrine therapy.
Dr. Cook's preliminary data show that, compared to lean mice, obese mice are more likely to develop breast cancer and to have a worse response rate to endocrine-targeted therapies.
Molecular signaling pathways such as the unfolded protein response (UPR) pathway and autophagy are identified as contributors to breast tumor development and cancer therapy resistance. Dr. Cook hypothesizes that elevated UPR and autophagy induction in mammary glands of obese mice promote tumor formation and impair responsiveness to anti-estrogen therapy. Targeting these pathways may prevent obesity-mediated primary breast cancer and prevent secondary breast cancer reoccurrence, thus reducing overall breast cancer mortality.
Fellowship Awardee: Nicole M. King, Ph.D.
Institution: Wayne State University, Detroit, MI
Project Title: Novel biomarkers for early detection of ovarian cancer
This study has the potential to provide early detection of ovarian cancer through screening with specific and sensitive biomarkers, ultimately changing detection and treatment of ovarian cancer in the future. 
General Audience Summary:
Ovarian cancer is responsible for the greatest number of deaths from gynecologic cancers and for the fifth greatest number of deaths from all cancers in American women. Currently, there is no effective screening test for ovarian cancer. Development of specific and sensitive biomarkers for ovarian cancer remains a challenge. A recent novel finding by Dr. King's lab has shown that an inflammatory protein, myeloperoxidase (MPO), is present in ovarian cancer cells and tissues and is not present in normal ovarian tissues, thus suggesting an important role for MPO in this disease. The presence of MPO seems to be specific to ovarian cancer as minimal or no presence was detected in several other types of cancer. Her lab has also reported that MPO serves as a source of free iron, which may contribute to the development of ovarian cancer.
A preliminary study using a small number of patients in Dr. King's lab has also shown that a combination of serum MPO and free iron levels can differentiate between early (stage I) ovarian cancer and healthy controls and between early- and late-state  ovarian cancer. Dr. King and her team will further test whether serum MPO and free iron can serve as biomarkers for early detection of ovarian cancer alone or in combination with commercially available tests for ovarian cancer. The outcome of this project is significant, because the development of a sensitive and specific method for early detection is widely recognized as a high priority to improve the diagnosis and treatment of this deadly disease. The proposed work is innovative, because, if it is successful, very specific, easily measured and relatively inexpensive mechanistically linked serum biomarkers would be available for the first time to detect ovarian cancer early.
Fellowship Awardee: Brittany Lasseigne, Ph.D.
Named Award: William J. Maier III Fellowship in Cancer Prevention
Institution: HudsonAlpha Institute for Biotechnology, Huntsville, AL
Project Title: Development of an Early Diagnostic Urine Test for Kidney Cancer
Kidney-cancer patient outcomes are dramatically improved with early diagnosis, so we are developing a urine DNA biomarker test for early detection and prevention of kidney cancer.
General Audience Summary:
Kidney cancer is the ninth most commonly diagnosed cancer in the U.S. In 2015, about 61,560 cases will be diagnosed, and 14,080 patients will die of the disease. When tumors are confined to the kidney, they can be surgically removed, and five-year survival rates are high. However, early symptoms are rare, later symptoms are not easily recognizable, and there are no clinical biomarkers for early detection. Once the cancer has spread outside the kidney, kidney cancer becomes harder to treat and much deadlier, showing the importance of early detection when tumors are still small and inside the kidney.
Dr. Lasseigne has identified differences in DNA between kidney tumor and normal tissue that can easily distinguish them, even in early-stage patients. These tissue biomarkers are strong candidates for development of a clinical diagnostic test for early kidney cancer. Urine is an optimal biofluid for detection of these biomarkers, because urine is produced in the kidney, and urine collection is non-invasive. About 50% of all DNA found in urine originates from the kidney, so Dr. Lasseigne and her team expect great success in detecting their biomarkers in urine samples. Their preliminary data suggest detection of these biomarkers is possible in patient urine, which provides an avenue for the development of a DNA-based diagnostic, non-invasive test for the early detection of kidney cancer. Dr. Lasseigne proposes to design, test and optimize a diagnostic test for kidney cancer. Successful implementation would aid in the early detection and prevention of kidney cancer, greatly improving patient care and outcomes.
Fellowship Awardee: Ranjan Preet, Ph.D.
Named Award: Lilly USA Research Award in Cancer Prevention and Early Detection
Institution: University of Kansas Medical Center Research Institute, Inc., Kansas City, KS
Project Title: The RNA binding protein HuR as a novel exosome biomarker in colon cancer
Colorectal cancer prevention is limited by lack of blood-based biomarkers, and this research aims to determine if a protein specifically secreted by colon cancer tumors can fill this void by providing a non-invasive approach for detecting colorectal cancer early.
General Audience Summary:
In 2016, it is estimated that over 134,000 Americans will be diagnosed with colorectal cancer. A major factor contributing to colorectal tumor progression is overexpression of oncogenes, inflammatory mediators and angiogenic growth factors. Exosomes are small secreted vesicles that contain biological materials such as RNA and proteins that can deliver this cargo to target cells. Tumor cells secrete higher amounts of exosomes that contain oncogenic cargo, and colorectal cancer patients have higher levels of circulating blood exosomes. This allows for their potential use as a disease marker. The goals of this study are to characterize a novel protein present in colorectal cancer exosomes and to determine if it can serve as a non-invasive biomarker for colon cancer screening. The study will characterize a novel protein that is selectively secreted from colorectal cancer cells, and Dr. Preet aims to explore this as a potential biomarker for development of a non-invasive blood-based detection method for colorectal cancer. 
Grantee: Victoria Seewaldt, M.D.
Named Award: The Green Flash Brewing Company Grant in Cancer Prevention and Early Detection
Applicant Title: Professor and Chair
Institution: Beckman Research Institute of the City of Hope
Project Title: Early Detection of Triple-Negative Breast Cancer
This research explores biological cues which may help detect triple-negative breast cancer earlier than through use of biopsy alone.
General Audience Summary:
Everyone knows a woman who had a normal mammogram or biopsy.  Yet despite these "normal" tests she went on to develop an aggressive cancer. When this happens in my clinic, I feel that I have betrayed my patient.
Part of the problem is that we know very little about how aggressive breast cancers develop. The majority of breast biopsies are evaluated by appearance (morphology) and not by biology; however, our studies provide evidence that biology can sometimes be even more important than morphology. In this study we aim to test whether some breast biopsies may look normal but have activation aggressive biology that, if left unchecked, promotes rapid progression to triple-negative breast cancers (TNBC).
Discovery of the BRCA1 gene has helped identify some women who are at highest risk of developing TNBC. However, many TNBCs occur in women without an inherited BRCA1, and a majority of these cancers (61-76%) have defective BRCA1 protein (BRCA1 protein is not in the nucleus). In our bench studies, we identified a signaling network (Wnt10B/HMGA2/EZH2) that blocks the ability of BRCA1 protein to get into the nucleus.
We tested whether the signaling network could identify women who, despite a normal biopsy, went on to develop TNBC. We tested biopsies from high-risk women in my clinic who had breast biopsies that were read as "normal" by the pathologist and subsequently did—or did not—develop TNBC within 12 months of biopsy. In preliminary data we observed that expression of our signaling network predicted 1) loss of working BRCA1 (loss of nuclear BRCA1) and 2) progression to TNBC within 12 months.
Our hypothesis is that activation of this network signaling predicts loss of nuclear expression of BRCA1 (loss of function) and can be used to improve early detection of TNBC.
2016 Special Awards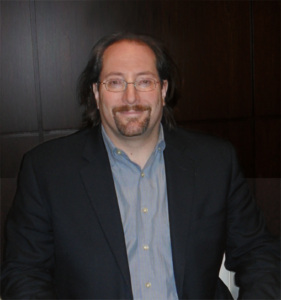 Phil Castle, PhD, MPH; Albert Einstein College of Medicine
Named award: Awesome Games Done Quick grant
What he will study: The efficacy of a mobile phone screening device in diagnosing cervical cancer in Rwanda
At the 2015 Dialogue for Action® conference, Ariel Beery, CEO of biotech firm MobileODT, showed his cervical cancer screening device which is built on a mobile phone base. His invention caught the eye of Dr. Phil Castle, a world renown cervical cancer expert, who will now assess the technology's ability to detect cervical cancer early in Rwanda. Cervical cancer is a disease linked to poverty because 76 percent of new cervical cancer cases and 88 percent of deaths across the globe occur in developing countries with minimal resources to vaccinate, screen or treat women for this deadly disease.
Grantee: Dorraya El-Ashry, Ph.D.
Named Award: Awesome Games Done Quick Grant
Applicant Title: Associate Professor
Institution: University of Miami, Miami, FL
Project Title: CAFs: Biomarkers of Early Metastasis
Prevention is of utmost importance, and there is also an immediate need for the early detection of metastasis. We propose to establish Cancer-Associated Fibroblasts as a novel biomarker for the early detection of breast cancer metastasis./em>
General Audience Summary:
In recent years, the earlier detection of breast cancer has dramatically improved treatment success and clinical outcomes for breast cancer patients. Nevertheless, the lion's share of deaths associated with breast cancer are due to disease metastasis, i.e., the spreading of breast cancer to grow in organ sites other than the breast, which can occur years or decades after initial therapy. The research we propose addresses an aspect of breast cancer therapy that is critical to improve the care and clinical outcomes for patients: early detection of disease progression and metastasis.
Cancer Associated Fibroblasts (CAFs), non-cancer cells that make up a large portion of a breast tumor, produce key factors involved in breast cancer initiation to progression, drug-resistance, and metastasis, and, critically, may be a target for therapeutic intervention in breast cancer of all stages. CAFs, as non-cancer cells, lack the ability that cancer cells have to adapt to targeted therapy, making them a very attractive therapeutic target. CAFs are present in every stage of breast cancer, including the most common type of non-invasive breast cancer, Ductal Carcinoma In Situ (DCIS). We have further determined that CAFs are a novel population of circulating cells (cCAFs) that are found in blood samples from almost all patients with metastatic breast cancer (Stage IV), in some patients with DCIS and Stage I-III disease, but not in patients who have undergone curative therapy for early-stage disease. CAFs play important roles in mobilizing breast cancer cells to more aggressive and metastatic behavior, and their presence in circulation suggests a role for them in establishing metastases.
We hypothesize that cCAFs are biomarkers indicative of breast cancer metastasis and thus may be a biomarker for early detection of metastasis.
Grantee: Valsamo Anagnostou, M.D., Ph.D.
Partnership Award: IASLC/Prevent Cancer Foundation/Richard C. Devereaux
Applicant Title: Associate Professor
Institution: Johns Hopkins University, Baltimore, MD
Project Title: Comprehensive Genomic Analysis for Early Detection of Recurrence and Therapeutic Intervention in Stage I/II Non-small Cell Lung Cancer
This researcher offers a novel approach: she  will look for a biomarker with the potential to detect the recurrence of early-stage non-small cell lung cancer earlier than can current methods. This could lead to targeted treatment strategies.
General Audience Summary:
Lung cancer, predominantly non-small cell lung cancer (NSCLC), is the most common cause of death from cancer worldwide. The prognosis of NSCLC largely depends on tumor stage, and low overall survival rates are attributed to late diagnosis, when the tumor is either unresectable (cannot be completely removed by surgery) or metastatic. The relapse rate even in early-stage resectable lung cancer patients is in the range of 35-50% within 5 years after potentially curative treatment. Approaches to reduce lung cancer specific mortality include early detection of recurrence in patients with resectable disease by means other than radiographic surveillance. The latter is currently the gold standard for detection of recurrence; however, it remains limited in its efficacy for predicting outcomes in early-stage NSCLC patients. Prompt and accurate detection of recurrent disease delineates the need for additional imaging or diagnostic procedures and has immediate therapeutic implications.
It is therefore of great importance to develop sensitive and highly specific molecular markers that will improve the detection of recurrence in early-stage NSCLC patients and complement the predictive value of radiographic imaging. Recognizing the importance of genomic alterations in lung cancer biology, we hypothesize that there are tumor subsets in early-stage NSCLC with distinct somatic mutations, which reflect differences in clinical outcome. We propose a comprehensive genomic analysis of both the primary tumor as well as circulating cell-free DNA in order to identify genomic alterations associated with disease recurrence in early-stage NSCLC patients. This approach is highly innovative: the development of non-invasive molecular cancer biomarkers able to identify disease recurrence before any radiographic or clinical evidence could reshape treatment strategies and customize adjuvant therapy for early stage non-small cell lung cancer patients.