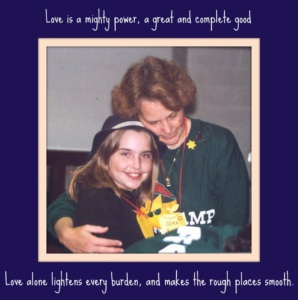 My mother, Alice, was amazing. As an awesome mother and a knowledgeable nurse, she made sure we stayed active, ate a healthy diet and, most importantly, stayed out of trouble. That's why we were so shocked that warm August afternoon in 1999 when we learned that Mom, the epitome of healthy living, had been diagnosed with cervical cancer. Upon hearing the news, all my little 11-year-old self could think was…WHOA.
Both my parents assured me her upcoming surgery would essentially make her cancer-free, which it did at the time. She underwent a total hysterectomy, or the removal of the uterus and cervix (and, in her case, the ovaries and fallopian tubes). Following surgery, she began hormone therapy to help her body cope. Not many mother-daughter pairs can say they exchanged hormone stories; as a pre-teen, I had way too many hormones, and she had almost none. Her doctors did not suggest chemotherapy or radiation because her initial tests showed positive results.
I didn't realize it at first, but I was learning a valuable lesson watching my mother go through her experience. I learned to LISTEN TO YOUR BODY and BE YOUR OWN ADVOCATE. Her journey began with a routine pap smear, which detected the cancerous cells in early stages. Her doctors presented many available treatment methods and were optimistic about her chances of beating cancer. In the years that followed, she needed to be her own best advocate by sharing with her doctors the changes she felt in her body.
My mom continued to have periodic screenings through my high school years and everyone was holding out hope for that precious five-year mark. On the eve of year five, Mom's body was telling us something. The cancer was back, and this time she needed the full onslaught of treatment—multiple cycles of chemotherapy and radiation (the cancer metastasized, or spread, to the bone in her right hip and would later spread to other organs).
On June 17, 2004 (the day of my high school graduation), I was so hopeful for her health and my future that positivity reigned supreme. But exactly two years later to the day, she would be gone. Her cancer journey was long and tough, but she did not want her end to be in vain. I share her story as often as I can, but especially during January, so others can learn to listen to their bodies and be their own best advocates.
You can make a difference, too. Talk to your families about the importance of knowing your body, letting your health care provider know of any changes and getting your yearly screening. Since January is Cervical Health Awareness Month, it's a great annual reminder to take these steps to reduce your cervical cancer risk or detect it early.