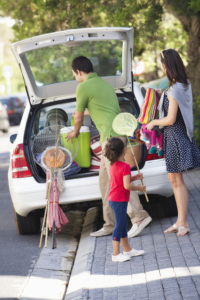 This summer, about three-fourths of Americans are expected to hit the road for a family trip—cue the chorus of kids asking, "Are we there yet?" The key to keeping the backseat quiet and content? Food. But between rest stop vending machines and fast food meals, staying healthy on road trips is anything but easy.
Fortunately, with a little forward planning, you can keep your family happy and healthy until you reach your destination! Here are a few ideas to get you started.
Homemade trail mix: Store-bought trail mix can be loaded with sugar. Customize your own to fit your family's tastes or allergies with a variety of nuts, seeds, dark chocolate and dried fruit, and you're good to go!

String cheese and pretzels: Cheese provides protein and calcium to keep everyone fueled, and low-sodium pretzels are a better option than crackers (plus, they leave fewer crumbs!).

Almonds and apple slices: The perfect salty and sweet treat! Blueberries are another good option to mix with almonds.

Roasted chickpeas: Chickpeas are a great source of protein and fiber.

Roasted chickpeas

are easy to prepare and change up with different spices. They're a great source of protein and fiber and a great alternative to potato chips.

Veggies and hummus: If you have time,

make your own hummus

,

or buy your favorite flavor at the grocery store and pair with carrots, peppers, broccoli or other raw veggies.

Picnic lunch: Rather than stopping at fast food restaurants for lunch, pack a cooler with sandwiches, pasta salad and fruit, and stop at a rest area for a picnic. Avoid red meat and stick with roasted turkey or chicken with avocado, peanut butter and jelly, or veggie and hummus sandwiches.

No-bake energy bites: To curb that sweet tooth, opt for a couple of

these

instead of a candy bar. Beat the last-minute rush of trip prep by making and freezing them ahead of time!

Vacations can also mean lots of dinners out at restaurants, so be sure to check out tips for eating smart while dining out from Dr. Ann G. Kulz.