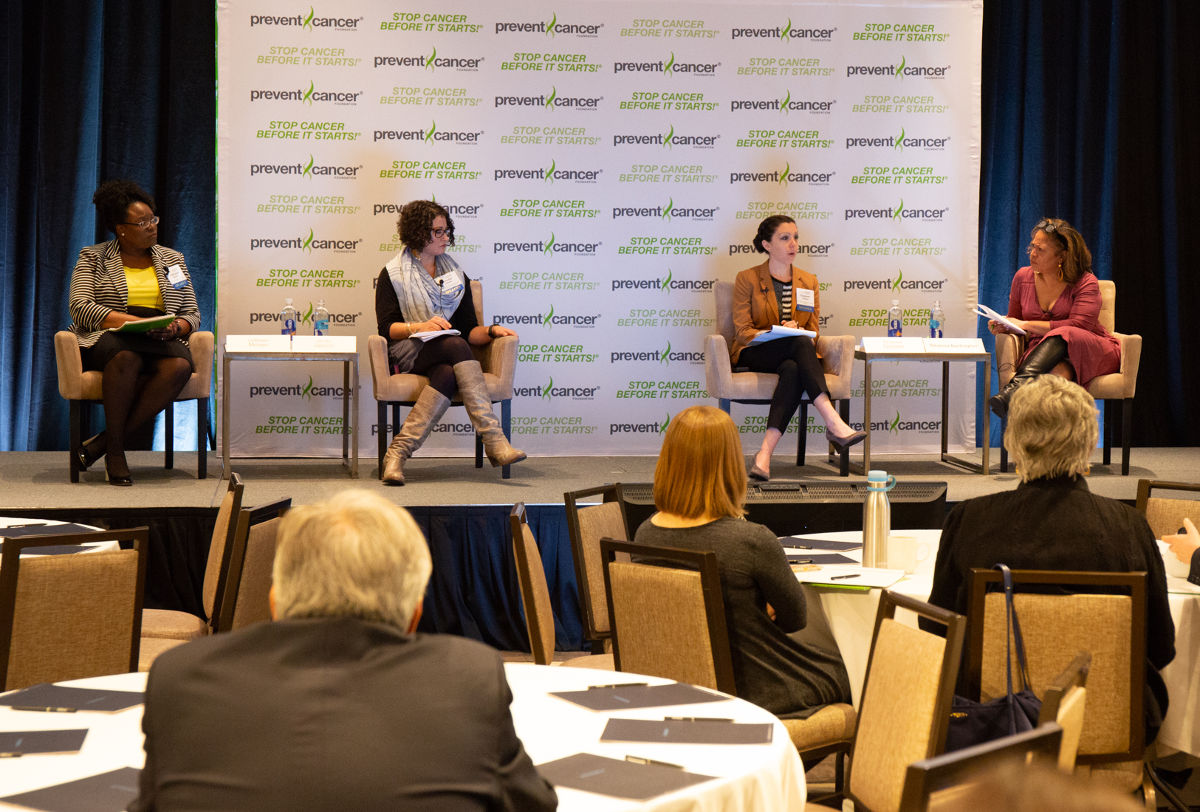 SAVE THE DATE!
2019 Prevent Cancer Advocacy Workshop
April 24, 2019
Hilton Crystal City
Arlington, VA
The Prevent Cancer Advocacy Workshop is an annual conference that convenes stakeholders to discuss pressing issues that impact cancer prevention and early detection, as well as novel approaches to address these issues through policy and advocacy. The Workshop is an open forum that allows participants to immerse themselves in engaging presentations and facilitated conversations, and to build capacity for creative solutions through collaboration with other attendees. 
---
2018 Advocacy Workshop
The Foundation held its annual Advocacy Workshop on Wednesday April 11, 2018, where participants heard from advocates, policy experts, patient navigators and researchers about the issues barring minorities and other underserved populations from accessing quality health education and care.
Panelists addressed issues facing these communities, not just for those affected by cancer, but for those affected by chronic conditions like diabetes, heart disease and arthritis. The panelists see many of the same issues affecting health disparities, such as access to transportation, child care and other resources that patients need to get to appointments. They also discussed a need for better patient-provider communication and called on insurers to help patients understand their coverage.
View keynote address slide presentation: Culturally Tailored Approaches to Address Health Inequities and Disparities: The Racial and Ethnic Approaches to Community Health (REACH) Initiative – April Bankston, Senior Public Health Advisor, Division of Nutrition, Physical Activity, and Obesity, CDC
Agenda for the 2018 Advocacy Workshop
Welcome and Opening Remarks
Carolyn Aldigé, President and Founder, Prevent Cancer Foundation
Workshop overview
Taylor Patton, Director, Advocacy and Policy, Prevent Cancer Foundation 
Panel 1: Health Disparities in Chronic Disease Prevention
Moderator:
Deanna Darlington, Director, Patient Advocacy and Allied Development, Amgen
Panelists:
LaShawn McIver, Senior Vice President, Government Affairs & Advocacy – ‎American Diabetes Association
Jennifer Jabson, Assistant Professor, University of Tennesee – Knoxville
Elizabeth Glidden, Patient Navigator, American Cancer Society, Northeast Region
Lunch Keynote
April Bankston, Team Lead, Racial and Ethnic Approaches to Community Health (REACH) Program, Centers for Disease Control and Prevention
Panel 2: Policy Solutions to Address Threats in Chronic Disease Prevention
Moderator:
Jack Rayburn, Senior Government Relations Manager, Trust for America's Health
Panelists:
Elizabeth Franklin, Executive Director, Cancer Policy Institute, Cancer Support Community
Anna Hyde, Vice President, Advocacy and Access, Arthritis Foundation
Katie Berge, Government Relations Manager, American Heart Association