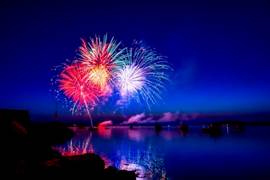 Every Fourth of July, friends and family gather across the U.S. for fun and celebration. Independence Day parties often include sun, sports, and, of course, scrumptious foods! Here are some tips for staying healthy while having fun:
Stay safe in the sun. Wear red in your outfit, not on your skin! Everyone wants to spend time outside, but be sure to stay smart while enjoying the sunshine. Use sunscreen with SPF 30 or above with UVA and UVB protection to reduce your risk for skin cancer. Don't forget your face, lips and scalp!
Enjoy some healthy competition. Organize a fun group activity to keep everyone active and entertained. Capture the flag, Frisbee games, scavenger hunts, volleyball, kickball and badminton are all great ways to keep the whole crew engaged!
Eat smart. It's okay to indulge in some of your favorite foods on the holiday, but try to eat smart. Red meats, processed foods and sugar are all linked to an increased risk of cancer. This year, try to be mindful of your eating and drinking habits—swap out burgers for chicken, chips for fruit and veggies, and sugary drinks for water or tea.
Need some more ideas for healthy options? Check out our other posts on low-sugar sangria, healthy and delicious spinach artichoke dip, red, white & blue cheese dip, barbecue ideas and other simple snacks and treats, as well as some tips on staying safe in the sun!