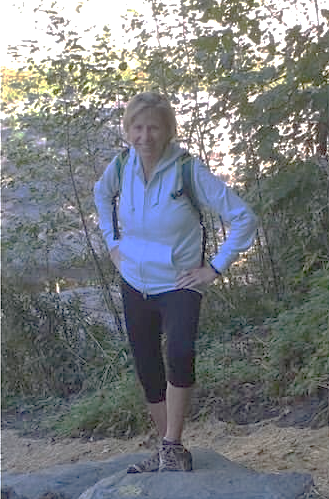 A heart attack―that I could understand. Hearts in my family are not as strong as they ought to be. But cancer? Nobody in my family had cancer.
My sister, Lauren, was an active person. She loved to play tennis and go for long walks through her Connecticut neighborhood and on the trails in Vermont. She had no bad habits or vices; she didn't even drink coffee. But almost three years ago, the words "stomach cancer" suddenly entered our world. They were shocking words to us, words our family's history never prepared us for.
From the start, Lauren's attitude was positive and upbeat. There was no doubt in her mind that she would beat this. She underwent chemo and radiation and, when that didn't work, she had surgery to remove her stomach. Throughout it all, you never would have guessed Lauren was sick. Nothing in her demeanor revealed cancer had moved in.  
We all thought the surgery was successful. Healthier than she had been in years, Lauren was slowly able to eat more. She gained weight, the doctors said the surgery had gotten all of the cancer, and she "rang the bell," declaring herself cancer-free.
But earlier this year, the cancer returned. The doctors discovered the new cancer in its earliest stages and Lauren's prognosis was good―we all expected her to beat it again. But this time, it was too much. The cancer spread quickly and liver surgery was unsuccessful in stemming the tide. By the beginning of June, it was apparent there would be no last-minute reprieve, and Lauren entered home hospice. When she told me the news, all she could think about was family, not herself. We were ordered to "be happy or I'll come back to haunt you." Those were the last words my sister spoke to me when I visited her on June 15, 2017. Two days later she was gone, taken by a disease that had no business in our family.
Every June, my family attends Clearwater's Great Hudson River Revival music festival in Westchester County, New York. I knew Lauren would be upset if the family decided not to go because of her, so we went. Alejandro Escovedo was playing on Sunday afternoon and I was excited to see him perform. I've loved his music for years―it's honest, it's powerful and it speaks directly to your heart. I visited Alejandro's website and the first thing I saw was that he had become a spokesperson for the Prevent Cancer Foundation's Think About the Link® campaign to raise awareness of virally-induced cancers. I was unfamiliar with the Foundation, but eager to learn more about supporting it in honor of my sister. I was impressed with their work to help people both prevent and detect cancer. An incredible 76 percent of donations go directly toward their mission. Given the good work they do and Alejandro's support, I decided the Prevent Cancer Foundation® was where I could make an impact in Lauren's honor.
Toward the close of the festival on Saturday, I received the news of my sister's passing. After the initial feeling of being punched in the gut, it occurred to me that there was no better place to learn the sad news than at the festival, as I felt a powerful sense of support from the music and people around me.
I decided to come back and see Alejandro perform the next day. Alejandro and his band took the stage with no introduction, starting the show with loud and exhilarating songs before moving into an intimate acoustic set. The band finished, leaving the stage to raucous shouting and applause. I felt ready to go on with my life as my sister wanted, carrying her with me wherever I go.
Lauren traveled on this final journey with grace, dignity, courage, and at the very end, fearlessness. My sister made peace with what was to come, unafraid of death. All she could think about was us continuing to live the best lives possible.
I am humbled by the generosity of all the people who offered their kind words of support at this hard time. I will honor my sister and carry on her legacy to the best of my ability, giving money, time, or whatever else is required to join the fight against cancer.