Congressional Families
Congressional Families Cancer Prevention Program is a bipartisan effort to increase the public's understanding of cancer prevention and early detection. Families of Senate, House, Cabinet, Supreme Court and the Diplomatic Corps are invited to work within their respective constituencies to educate the public. The Congressional Families Program offers educational events, materials and resources to equip its members to bring the message of cancer prevention and early detection back to their communities.
Past Event Articles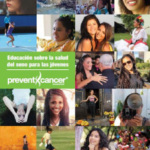 Breast Health Education for Young Women Seminar, June 13, 2017
Congressional spouses gathered on May 24 to learn how to engage with young women in their home districts on breast health education with the help of the Prevent Cancer Foundation's Breast Health Education for Young Women: Facilitator's Guide. Read More.
---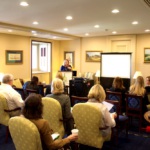 Harnessing the power of social media, March 29, 2017
On March 29, Tammy Gordon, founder of Verified Strategy, a digital strategy and marketing firm, led a seminar on Harnessing the Power of Social Media for congressional spouses.
Read More.
---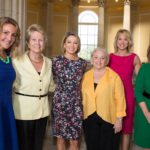 Cancer Prevention Leaders Honored at the 24th Annual Congressional Families Awards Luncheon, September 29, 2016
The Program's signature event recognizes leaders in cancer prevention, bringing together a bipartisan group of supporters
Read More.
---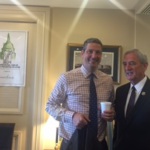 Mindfulness, Meditation and Disease Prevention, June 15, 2016
A discussion at the U.S. Capitol about the role meditation and mindfulness play in disease prevention, stress reduction and healthy living
Read More.
---
Hazards and Allure of Indoor Tanning Beds Briefing, May 20, 2015
A panel discussion about the dangers of indoor tanning beds and their accessibility to college students. Read More.
---
Lifestyle Matters Seminar, March 25, 2015
Dr. Nelson role delves into how lifestyle factors, such as a healthy diet, exercise, social support, and the environment play in reducing one's risk for cancer. Read More.
---
2014 Annual Action for Cancer Awareness Awards Luncheon, September 18, 2014
At the 22nd annual awards luncheon cancer advocates were honored for their leadership in prevention. Read More.
---
Healthy Base Initiative Briefing, March 12, 2013
Representatives from the Department of Defense came to Capitol Hill to brief congressional spouses on the Healthy Base Initiative, a program the military is piloting to implement healthy habits among personnel. Read More.
---
2013 Annual Action for Cancer Awareness Awards Luncheon, November 19, 2013
The 21st annual signature event for the Congressional Families Program honored advocates for highlighting cancer prevention. Read more.
---
Women's Cancers: New Science, New Activism, September 19, 2013
Actress, actor, and activist Fran Drescher joins with scientists to explore impacts of environmental risks on women's cancers. Read more.
---
Prevent Cancer Super Colon Visits Worcester, Mass., August 17, 2013
Over 400 visited the Prevent Cancer Super Colon at the 23rd Annual Latin American Festival in Worcester, Massachusetts. Read more.
---
Hive on the Hill: Queen Bee Trunk Show, August 1, 2013
The Queen Bee trunk show offered a one day sale on all Queen Bee creations, generously donating a portion of the proceeds to the Prevent Cancer Foundation. Read more.